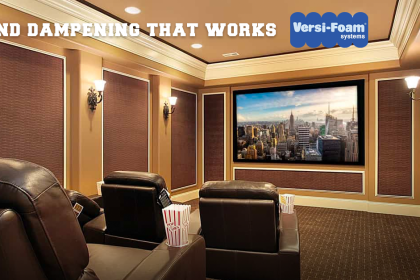 Effective sound dampening is one of the key concerns for residential and commercial construction contractors.
According to Grand View Research, "It has been observed that the human health and efficiency is highly related to the noise level in the work environment, which highlights the importance of sound barriers. Increasing concern for employee comfort levels has triggered the demand for noise cancelling materials in commercial buildings."  They expect foam to dominate the industry through 2025.

In addition to comfort level and needing a quiet place to work, some professions require confidentiality and the assurance that their conversations will not be overheard. Protecting occupants from noise intrusion is a growing part of both the commercial construction industry and the residential construction industry. In fact, one of the recent luxury condo developments in Oconomowoc heavily promotes it's construction methods which limit sound transfer between units.

Versi-Foam® open cell formation spray foam is a cost effective, efficient way to dampen sound. It creates a barrier which absorbs noise, inhibits the transfer of sound between rooms and reduces noise that enters the building from the outside. The spray foam works because sound is airborne and the foam reduces the air space through which the sound can travel. This brings value to the building for the end user. The additional value can be expected to increase revenue for both the owner and the contractor.
Finding the right low pressure spray foam insulation kit for your residential or commercial construction project is key to the health and satisfaction of your clients. To locate a distributor or receive more product information, call us today at 1-800-657-0702 or contact us here online.